Liberal MPs Tim Owen and Andrew Cornwell quit after Icac admissions | World news | theguardian.com
Liberal MPs Tim Owen and Andrew Cornwell quit after Icac admissions
Two MPs resign from NSW parliament after admitting they received money from property developers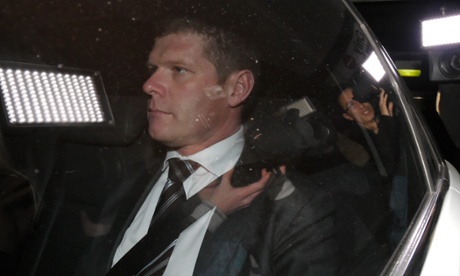 NSW MPs Tim Owen and Andrew Cornwell have resigned from parliament after Owen admitted lying to the Independent Commission Against Corruption.
The
former Liberal MPs have both been questioned by Icac about whether they
took illegal donations from property developers. They had stepped aside
from the party and taken positions on the crossbench but the premier,
Mike Baird, was pressured to boot them from parliament after Owen
admitted lying to Icac.
The NSW Speaker, Shelley Hancock, announced the resignations to parliament just before question time on Tuesday.
The resignations mean there will be byelections in the coming months in Newcastle and Charlestown.
The premier, Mike Baird, told Parliament everyone in NSW had the right to feel "appalled, angered and betrayed".
The
opposition leader, John Robertson, urged Baird to introduce full public
funding of elections to remove the "corrosive influence of donations
once and for all".
Baird said the government had already taken
action, launching reviews into donation rules and the governance of the
Liberal party.
NSW's finance laws, specifically political
donations and public funding, are being examined by the former head of
Sydney Water, Kerry Schott, with changes expected in the wake of Icac
revelations.
Owen told Icac on Monday that either his campaign
manager, Hugh Thomson, or the former NSW police minister Mike Gallacher
had arranged a $10,000 donation from property developer and now
Newcastle mayor Jeff McCloy in December 2010.
He said the money
had been returned to McCloy – but on Tuesday said he and McCloy had an
agreement to lie about the return of the money to the commission.
He admitted to Icac the money was actually "rolled into [his] campaign".
Owen
said he and McCloy agreed on Sunday that Owen would tell Icac he was
given about $2,000 by McCloy but returned it the next day.
Citing
Owen's evidence from Monday, McCloy's lawyer asked, "if the words that
follow ... 'and then I went back to his house after that and basically
dropped the envelope back in his letter box'," were false.
"Yes.
It was," the former deputy commander of the Australian forces in
Afghanistan and Iraq said. "You said, 'I think I just put a little note
on it that said no thanks,' – that answer was false," McCloy's lawyer
said.
Owen: "Correct."
During the Sunday meeting the men also discussed whether McCloy should resign as the lord mayor of Newcastle, Icac heard.
Owen
denied McCloy had asked him to come clean about the cash. "You said,
'My wife will divorce me. I've sworn on a stack of Bibles that I didn't
receive any money,' " McCloy's lawyer said. "I didn't say that to him,
no," Owen said.
Owen said he tried to make the statement on Monday
afternoon but was cut off by counsel assisting the commission, Geoffrey
Watson.
Cornwell admitted at Icac last week to receiving $20,000
from property developers and announced he would resign at next year's
election. He sought parliamentary leave after his appearance at the
hearing.
He told Icac he had accepted $10,000 in a brown paper bag
in a Bentley from McCloy, in the leadup to the 2011 election, despite
there being a ban on developer donations.
He also confessed to
using $10,000 from the sham sale of a Rex Newell painting to a property
developer to pay his payroll tax bill.