MP Garry Edwards stands down as Icac claims ninth Liberal party scalp | World news | theguardian.com





Australian Associated Press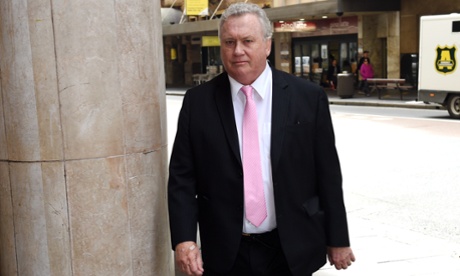 The New South Wales Independent Commission Against Corruption (Icac) has claimed another Liberal party scalp.

The member for Swansea, Garry Edwards, has stood aside from the party after being named at a corruption hearing.

He becomes the ninth NSW Liberal MP to be sidelined amid revelations at the Icac.

"I
look forward to an early opportunity to clear my name," Edwards said in
a statement. "In the meantime, I have decided to stand aside from the
parliamentary Liberal party. I have informed the premier of my decision
and he has accepted it."

Earlier on Thursday the Newcastle
property baron Jeff McCloy told the Icac that he gave about $1,500 to
Edwards. The now mayor of Newcastle said he handed out so much cash to
MPs that he felt like a walking ATM.

Tim Owen and Andrew Cornwell
quit the NSW parliament this week after corruption watchdog revelations
that they were given $10,000 each in the lead-up to the 2011 election.

Developers are barred from making political donations in NSW.

Giving evidence, McCloy said he handed over cash to Edwards as well.

"Apart
from Mr Owen and Mr Cornwell, which other politicians did you give cash
money to?" counsel assisting, Geoffrey Watson, asked.

"The guy
from Swansea came to see me, Garry – he rang me – it was [on a] a
Saturday. He came round to my home; whatever was in my wallet, 1,500
bucks, raffle tickets or something. I gave him a few bob."

McCloy appeared relaxed in the witness box, quipping: "They all come to see me for money; I feel like a walking ATM some days."

He
denied giving money to the former NSW government ministers Michael
Gallacher and Chris Hartcher, but said that he had a niggling suspicion
he had given to the family of another Hunter politician, the former
environment minister Robyn Parker.

"Robyn Parker's interesting because I can't piece it together," he said.

"I've
had my staff look at all the local politicians, going through all the
cheques … It was only recently when they looked at Robyn and we couldn't
find anything.

"I have a nagging thing in the back of my head about some CDs for her husband. Was that so? I am not sure."

Parker was dumped from cabinet in the premier's April reshuffle.

The inquiry continues.