Chris Hartcher, MP allegedly behind illegal donations scheme, set to retire
Chris Hartcher, MP allegedly behind illegal donations scheme, set to retire
Former
NSW Liberal frontbencher Chris Hartcher says he will not contest state
election in March after Icac inquiry hears evidence he 'masterminded'
scheme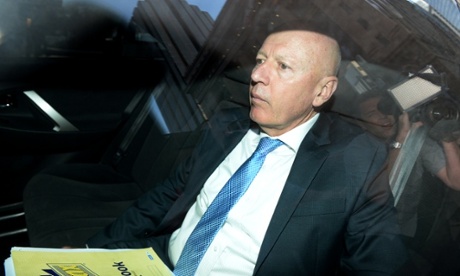 The alleged kingpin of a scheme to funnel illegal donations to New
South Wales Liberal candidates, former energy minister Chris Hartcher,
says he will not contest the state election in March.
Hartcher released a statement on Wednesday saying "after 26 years it is time to move on".
"I hope I have made a positive contribution to the development of the
[NSW central] coast, and have always appreciated the support I have
received from local residents," it said.
"It is remarkable that the [central] coast – once a Labor stronghold –
is now held by the Liberal party, both at a state and federal level. I
believe I have played my part in developing the framework for this
transition," he said.
The Independent Commission Against Corruption (Icac) has heard that Hartcher "masterminded" the creation of a series of slush funds, including a fake consulting business named Eightbyfive, before the 2011 state election.
Donations from property developers - banned in NSW since 2009 - were
allegedly paid as sham invoices to Eightbyfive, before being passed as
cash to Liberal candidates.
Two other Liberal MPs allegedly involved in the scheme, Chris Spence and Darren Webber, announced their retirement in June.
All three have denied any wrongdoing.
Former Newcastle MP Tim Owen and former Charlestown MP Andrew Cornwell both quit parliament in August after admitting they had received secret donations from property developers.
Five other NSW Liberals have moved to the crossbenches as a result of
the inquiry. Icac's report on the matter is due in January, two months
before the state election.